The Homeschool Phrases in Spanish
The Homeschool Phrases in Spanish
Use Spanish AS you homeschool.
Look through the printable, listen to the audio, and see more details below!
As a homeschooler, you know that education happens everywhere--not just at a dining table. But when it comes to Spanish, your gentle approach sometimes turns into carving out precious time to reluctantly conjugate verbs and memorize vocab, which after a couple of weeks… results in your kids still not speaking Spanish.
In reality, you should be speaking Spanish the same exact day you start learning--not year 2 or year never. And Spanish shouldn't feel like something extra that overwhelms your busy schedule! It should happen everywhere and integrate with what you're already doing.
The Homeschool Phrases will have your family using Spanish AS you're homeschooling because it has hundreds of phrases in Spanish that you already say all the time during your homeschool day! Like...
"Grab a sheet of paper."
"I left my coffee in the microwave again!"
"This is difficult, but you are capable of doing difficult things."
"You could be done right now if you had started when I asked you to."
"I don't want to practice the piano." ;)
While using the native speaker audio to hear how to pronounce the phrases, simply replace what you say in English with Spanish! Start with just one phrase or five… it's up to you!
There's no need to carve out precious time, sitting at the dining table writing boring vocab lists. Instead, while the kids are eating breakfast, you can say in Spanish, "It's time to start school." They might not know what it means yet, but you'll tell them in English, and then say it in Spanish one more time.
That's it! As you keep using this phrase every morning, your child will start to make the connection between what is happening and what it means in Spanish. By the way, this is the same way you taught your kids English! You didn't conjugate verbs with your baby, right? You spoke to your baby.
By taking this gentle and extremely practical approach with this one phrase, you're adding Spanish to your homeschool day at the kitchen table, and your homeschool day hasn't even started yet. Now you're not wishing your family was speaking Spanish because you ARE speaking Spanish! Soon your homeschool day will be filled with Spanish.
The Homeschool Phrases will have your family speaking in Spanish throughout your entire school day! From starting the day with your kids asking, "How much school are we doing today?" to you saying, "We're done for the day. You can go play now."

You'll have no problem replacing your everyday homeschool conversations in English with Spanish because this guide is completely relatable, mama!
There are only three steps to get started.

First, get out your guide.

Second, say the phrase with the audio.

And third, use the phrase with your family!

You'll start talking in Spanish the same exact day you start. As you have fun and continue to use your phrases, you'll get even better!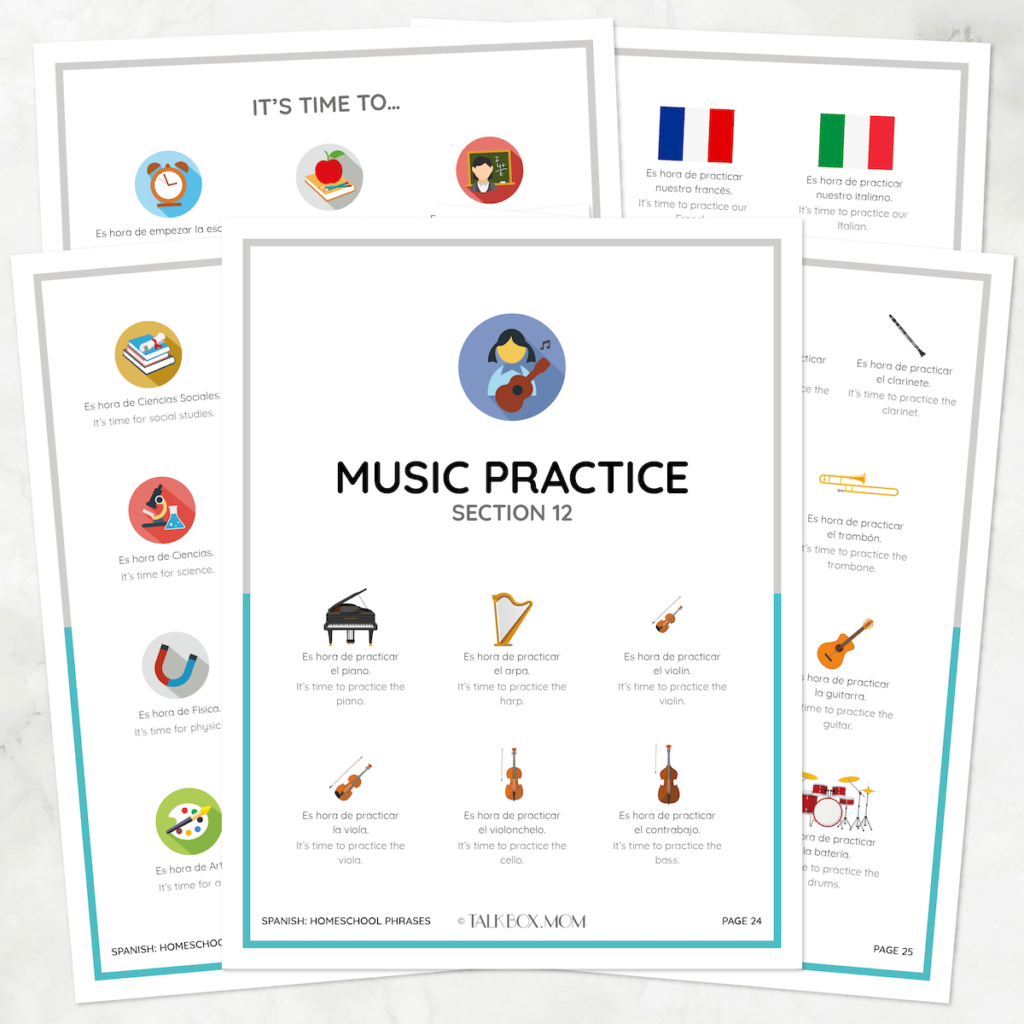 Our charts are easy to follow with colorful images, so you can quickly find the phrases that are perfect for your family. 

The fun pictures will keep your kids interested, coming back to look at the charts often and ask questions
Immerse yourself further into the Spanish culture by reading about how the Mexican education system works.

Make it a fun activity by grading papers for the day just like they do in Mexico! 
Native Speaker Audio in the App
For everything you'll find in this printable, you'll have native speaker audio that you can practice with, which means you'll be able to sound more and more like a native speaker every time you work through your phrases.
Quickly access all the audio in the TalkBox.Mom companion app, so you'll spend more time talking in Spanish as a family and less time doing busy work or, worse, learning pronunciation incorrectly.
Section 1: The School Year
From saying it's your first day of school, to letting people know you are a first or second generation homeschooler, to simply saying, "I'm homeschooled," this section will get your kids talking in Spanish not only with each other but with Spanish speaking people they meet.
Section 2: Starting School
Ready to start your school day? Que the questions from the kids, "How much school are we doing today," and, "Do I have to get dressed?" You and your children will be able to negotiate… I mean talk 😉 in Spanish about what's happening that day.
Section 3: Grabbing Supplies
You'll find yourself using these phrases a lot to ask the kids to grab paper, look for their notebook, sharpen their pencils, and all the other phrases you say while getting ready to do a task or transition from one subject to another. Plus, they'll be able to ask you where their things are after they've misplaced them. Classic.
Section 4: Reading & Writing
Whether it's letting your kids know it's time to read, asking your child to stop making that weird sound while you're reading, or looking up words in the dictionary to write down, this section will have your family talking about one of the most popular pastimes of homeschooling families: reading together and writing!
Section 5: Keep Going
Oh, the sigh of relief when a homeschool parent says, "A little more to go, and we'll be done!" That's always a nice point in the day. Use these Spanish phrases to tell your kids to keep going, you're setting a timer for a certain number of minutes, or entice them with video game time to finally finish that lesson. Your child will be able to ask for help, let you know what they're working on, and if they are finished!
Section 6: Online Class
Who would've thought that there would be so many kids doing online classes this year?! This section is perfect for today's digital world. Among other things, you'll be able to remind your child in Spanish that it is in fact a video call, and they will need to change out of their pajamas because everyone will see them! 🤣
Section 7: Siblings
There can be so many distractions during the school day, and many times the distraction is a sibling! Use phrases like, "Can you help her/him out with that problem?," and, "Can you do that in your head please?" to keep your Spanish immersion going even when sibling squabbles happen.
Section 8: Encouragement
Yay! You'll love these phrases that give you the opportunity to encourage your kids in Spanish by saying things like, "You are getting so much better at adding," and, "I love homeschooling you."
Section 9: Drama
If only kids got along all the time and completed every assignment without complaining, it would be a wonderful world, wouldn't it? But getting back to reality 😂 you'll be saying, "Leave your brother alone while he's trying to concentrate," in Spanish in no time.
Section 10: Coffee
I see you, busy Mama, just trying to get through the morning with your 2-hour-old, reheated, luke warm coffee in hand! Your coffee may not be hot, but your heart will be full as you use these coffee phrases with your kids.
Section 11: Science Experiments
Add another level of excitement to your science experiments by speaking in Spanish! Prepare for the experiment, do the experiment, and assess how the experiment went all with Spanish phrases.
Section 12: Music Practice
Let your child know it's time to practice, how long they need to practice for, and even talk about their recital pieces in Spanish.
Section 13: Grading & Finishing
Awesome! You've reached the end of your school day! Kids love asking, "Are we done now," and you love saying, "We're done!" So have fun with these phrases as you finish up your school day.
Section 14: Grading in Mexico
Immerse your family further into the Mexican culture by reading about the Mexican Education System. For a fun activity, grade your papers the same way they do in Mexico for a day!
Families who homeschool their kids, or
Families who have children in virtual school or families that help their children with after-school work.
Families with any level of Spanish fluency—from zero to conversational.
Families that are okay with printing out a PDF
Families who don't have school-aged kids.
Families that don't talk to each other that much while doing school.
Families that are already using Spanish the entire time they are homeschooling.
Families that do not or cannot print a digital product.
What happens after you purchase?
After you purchase the Homeschool Phrases in Spanish, you will receive a receipt that has a link to your digital download of the PDF as well as a PDF that explains how to download and log into the app with the native speaker audio.
To print the digital download, we recommend printing flash cards front to back on cardstock. The video below shows you how to download your PDF and print single- or double-sided.
How to Download & Print your Purchase
What is your refund policy?
Because this is a digital product that is delivered instantly, there are no refunds. For this reason, we show you in great detail what's inside, so you can make the best decision for your family before you purchase.
Is the Homeschool Phrases entirely different from the original phrasebook?
The phrasebook "Use Spanish at Home" is packed with general phrases you can use with various tasks and activities throughout your entire day! The Homeschool Phrases in Spanish are focused specifically on homeschooling, so they include more detailed phrases that are very specific to homeschool and after-school activities. These are new phrases, and the cross over between both products is very minimal. We recommend getting both!!
I don't have a printer. Can I send it to Office Depot to be printed?
Of course! Be sure to tell them which pages you want printed front to back. We recommend having it printed (1) in color, (2) on cardstock, and (3) front to back, so you can use them longer. You can also laminate your cards if you would like.
Can I share this with my friend?
It's against the licensing terms you agree to when you purchase to share the PDF, companion app, or prints with your friends, extended family, frenemies, students, or co-op. See our terms below for more details.
Of course, they can play with your family, but they cannot take it home, and it cannot be re-printed per student in a classroom or co-op setting. If you would like to do that, please email support@talkbox.mom for our co-op and classroom license.
Can I use this with my students or co-op?
Yes, you will need to purchase a copy for each student. If you are a teacher or lead a co-op, for example, contact support@talkbox.mom, so we can give you a discounted rate for purchasing the amount of copies you need to cover each student.
Is this made by native Spanish speakers?
Yes, our translators, editors, and voice artists are all native speakers from Mexico.
How do I download and print out the PDF double-sided?
If you need any help downloading and/or printing your printable, please watch the video tutorial above.
Are these available in other languages?
Are these available to download?
Yes. These are currently sold as a PDF download.
Does this come with audio?
Yes, every phrase has audio in the TalkBox.Mom Companion App. There is no MP3 download.
Only logged in customers who have purchased this product may leave a review.
Refund Policy
Because you have instant access, there are no refunds available for this product.
About Us
We want your family to have life-changing results.
Because when you can actually use a foreign language, you and your family can do more good in the world, connect with other cultures as you travel, and expand your work and educational opportunities.
We believe in the powerful role of mothers in this world, and we believe that you learning with and teaching your child will make this world even better.
When you purchase a product from TalkBox.Mom, you're not only supporting a team powered by women, but you're also helping us to create more products for your family.
About Your License
Personal Use Only: This purchase is for one license for your personal use only. 
By purchasing our product or program, you agree to not copy, reproduce, alter, modify, create derivative works, or publicly display any content from this work, except for personal, non-commercial use. 
No redistribution: You may not reproduce, repackage, or redistribute the contents of these downloads, in whole or in part, for any reason. 
You can absolutely:
:: Save the files on your computer or personal cloud drive and print off copies for your immediate family's use.

:: Post pictures of your family using this product on social media and blogs, as long as TalkBox.Mom is properly attributed and, if applicable, tagged with @TalkBoxMom

:: Send this file to be printed by an online service if it is to be used by your immediate family.
You may NOT:
:: Print off copies for or send a copy of the PDF to another family, friend, frenemy, teacher, group, co-op, school, class, or any other person or entity. This license is for your personal use. Sharing it is stealing. (Instead, tell them where to purchase their own copy.)

:: Host, transmit, or store any of the files, resources, or images on your own or other sites in any format

:: Link directly to the PDF file

:: Alter or sell the files.

:: Sell files to make a profit, including reselling. These downloads are non-transferable.
Modification of Terms: I shall have the right to modify the terms of this Agreement at any time, which modification shall be effective immediately and shall replace all prior Agreements.
For more information, email support@talkbox.mom.