DIGITAL DOWNLOAD
As a homeschooler, you know that education happens everywhere–not just at a dining table. But when it comes to Korean, your gentle approach sometimes turns into carving out precious time to reluctantly conjugate verbs and memorize vocab, which after a couple of weeks… results in your kids still not speaking Korean.
In reality, you should be speaking Korean the same exact day you start learning–not year 2 or year never. And Korean shouldn't feel like something extra that overwhelms your busy schedule! It should happen everywhere and integrate with what you're already doing.
The Homeschool Phrases will have your family using Korean AS you're homeschooling because it has hundreds of phrases in Korean that you already say all the time during your homeschool day! Like…
"Grab a sheet of paper."
"I left my coffee in the microwave again!"
"This is difficult, but you are capable of doing difficult things."
"You could be done right now if you had started when I asked you to."
"I don't want to practice the piano." 😉
While using the native speaker audio to hear how to pronounce the phrases, simply replace what you say in English with Korean! Start with just one phrase or five… it's up to you!
There's no need to carve out precious time, sitting at the dining table writing boring vocab lists. Instead, while the kids are eating breakfast, you can say in Korean, "It's time to start school." They might not know what it means yet, but you'll tell them in English, and then say it in Korean one more time.
That's it! As you keep using this phrase every morning, your child will start to make the connection between what is happening and what it means in Korean. By the way, this is the same way you taught your kids English! You didn't conjugate verbs with your baby, right? You spoke to your baby.
By taking this gentle and extremely practical approach with this one phrase, you're adding Korean to your homeschool day at the kitchen table, and your homeschool day hasn't even started yet. Now you're not wishing your family was speaking Korean because you ARE speaking Korean! Soon your homeschool day will be filled with Korean.
RELATABLE PHRASES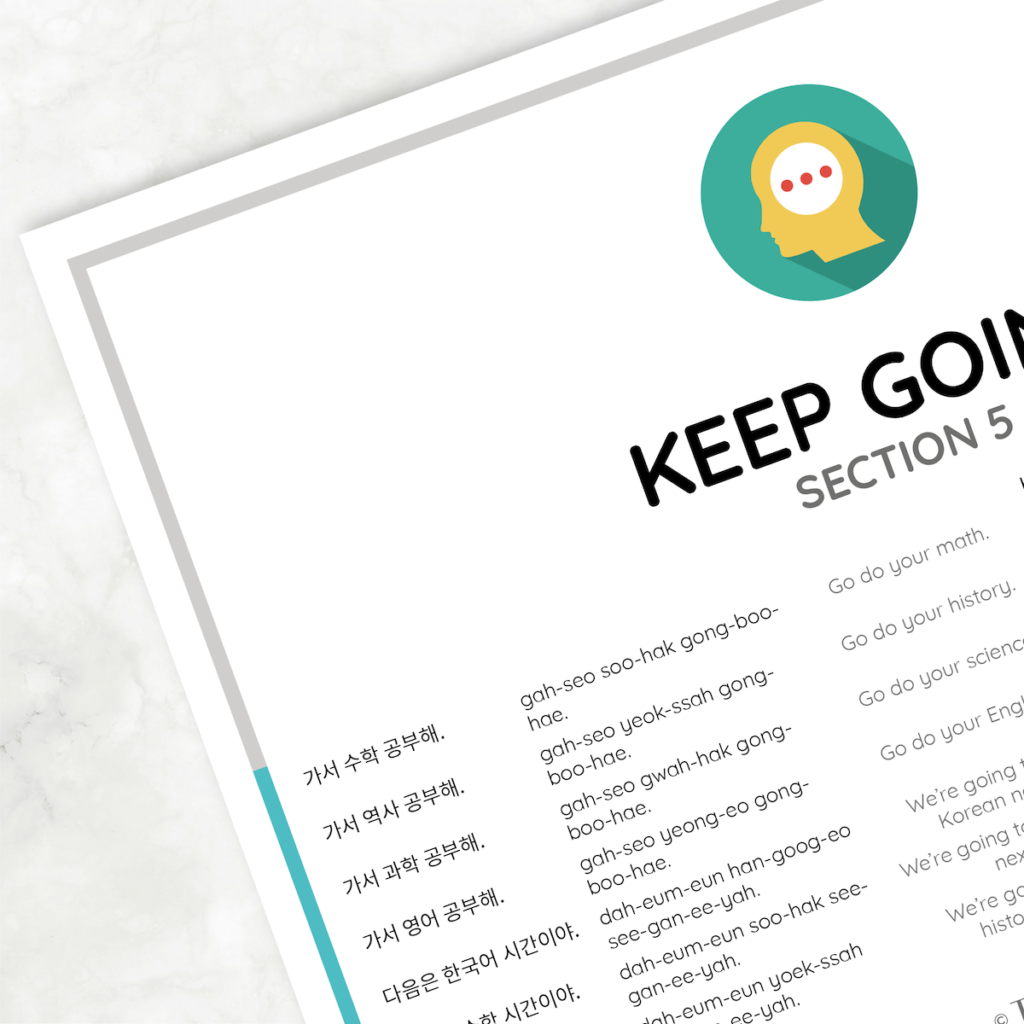 TALK RIGHT AWAY!
EASY TO FOLLOW CHARTS
CULTURAL EXPERIENCE
NATIVE SPEAKER AUDIO IN THE APP
A CLOSER LOOK
WHO IS THIS RIGHT FOR?
WHO IS THIS WRONG FOR?
WHAT HAPPENS AFTER YOU PURCHASE?
HOW TO DOWNLOAD & PRINT YOUR PURCHASE
FAQ