Math Facts: The Sum of 1 – 10 in Spanish
Math Facts: The Sum of 1 – 10 in Spanish
$39.95
Look through the printable, listen to the audio, and see more details below!
Completely teach and learn to calculate math all in Spanish!
As much as kids enjoy rattling off, "uno, dos, tres.." in Spanish, it rarely translates into kids being able to say what a number is out of sequence. They usually have to count up to the number before they can quickly remember the English equivalent. In order to have real fluency, you want your family to be able to think and calculate in Spanish.
The Math Facts Workbook: The Sum of 1 - 10 will help your family become fluent as you think, speak, and calculate in Spanish. The goal of this workbook is for you and your kids to be able to solve math problems while completely talking in Spanish. Plus, it comes with native speaker audio to ensure everyone can hear the phrases together as you combine both math and Spanish in your daily life!
Math Facts Workbook: From the Sum of 1-10
Ready to teach and learn math in Spanish?! This bilingual math workbook will allow your child to hear the math concepts out loud in Spanish and enjoy a hands-on experience by using the manipulatives to add and visualize math concepts while speaking Spanish.
The workbook uses a layering approach with bite-sized lessons to reinforce addition and counting in Spanish, leaving your child feeling accomplished and satisfied instead of in tears!
Worried that your level of Spanish doesn't match your child's? You have the option to read the instructions in Spanish out loud to your child or have the native speaker audio in the app assist you, so if your child knows more Spanish than you, you'll be just fine!
Getting Started: Practice Counting in Spanish
Starting with foundational math, counting 1-10, this workbook makes learning addition fun by using everyday food items! Go at your own pace as your child learns both counting in English and Spanish.
Once this foundation is laid, it's time to start the addition lessons! Yep, you'll jump right in after this, keeping your child's interest, so you can keep moving forward.
Problem Solving Lessons for Every Math Fact
Every time a new

sum

is introduced, your child has a full lesson on

those math facts

with manipulatives, real-life calculations, and equations, so they fully understand the concept while hearing, reading, speaking, and writing in Spanish.

All the math facts you learn in the same unit add up to the same number, so your child learns to group numbers, which will better prepare them for subtraction.
The workbook is full of speech bubble checkboxes where your child says a full equation or complete sentence with the answer in Spanish out loud and then checks it off. This will ensure that your child speaks Spanish out loud and will leave them with a sense of accomplishment.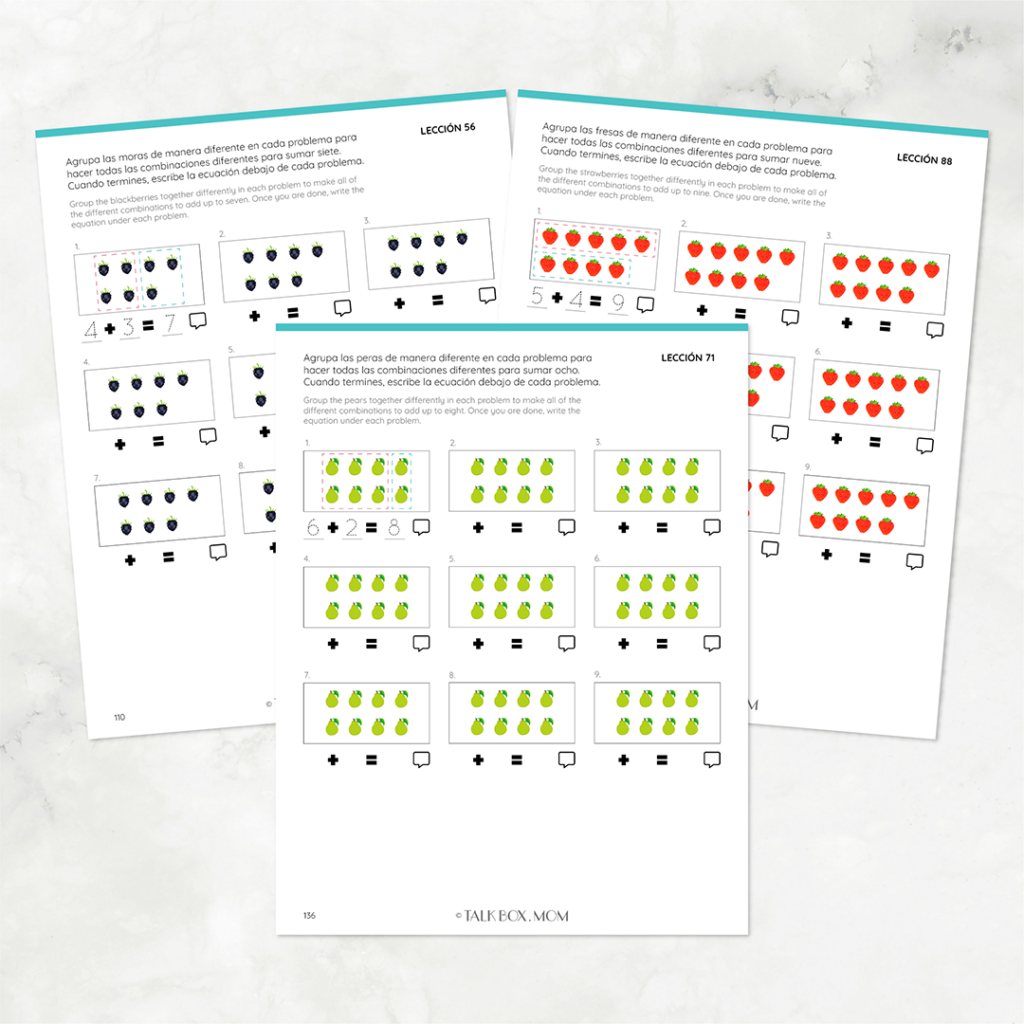 Grouping Equations for Every Math Fact
After completing each math fact unit, your child will think through all the different equations that add up to that specific sum by grouping the equations visually, writing the equations out, and then saying them out loud in Spanish.

Thinking through these groups will help your child better grasp addition and the various patterns.
Following each unit, there is also a review for your child to visually see the equations, write out the equations, and then say the equation out loud in Spanish.
This last visual review will not only help solidify the connection your child is making between visually seeing a math equation and representing it by numbers, but it will also help prepare your child for the last review.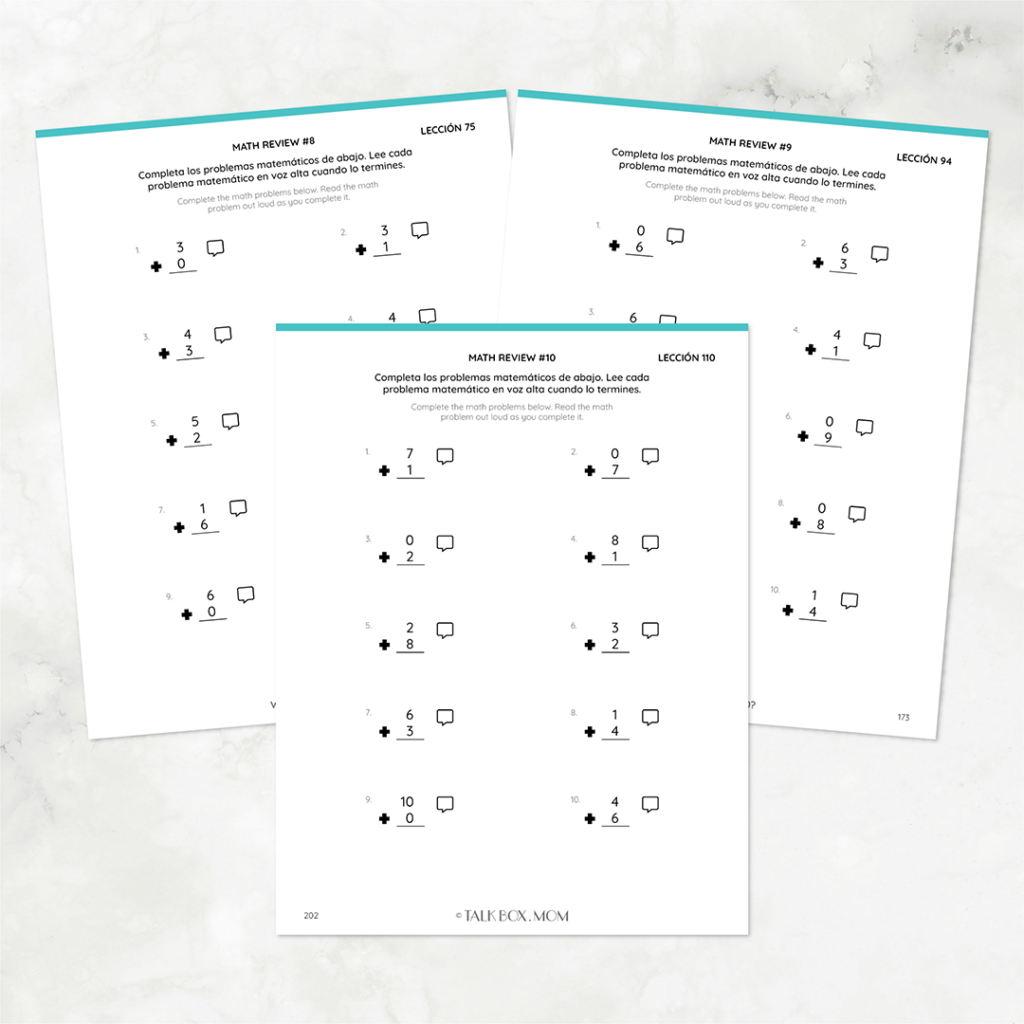 The math facts reviews at the end of each unit have the new math facts that were learned in the current unit as well as all preceding units. This thoughtful design will give your child just enough repetition to master both Spanish and addition without annoying them.
Tiles for Problem Solving
Yes! These two pages filled with bright and colorful tiles are the only things you'll cut out for this math workbook.
Enjoy using these manipulatives again and again to the delight of your tactile child.
Native Speaker Audio in the TalkBox.Mom Companion App!
Every phrase and equation in the workbook has native speaker audio in the TalkBox.Mom Companion App, so if you're unsure about pronunciation or want to hear it reviewed, it's at your fingertips!
What happens after you purchase?
After you purchase the Math Facts Workbook: From the Sum of 1-10, you will receive a receipt that has a link to your digital download of the PDF as well as a PDF that explains how to download and log into the app.
To print the digital download, we recommend printing the workbook front to back. The video below shows you how to download your PDF and print single- or double-sided.
How to Download & Print Your Purchase
Families that want to improve their Spanish together while also mastering math skills.
Families that cannot easily calculate the math facts for the sums 1-10 out loud in Spanish.
Families that are okay with printing out a PDF
If you are wanting your child to learn on their own without you helping, this program is not for you.
If you and your child can already easily calculate the math fats for the sums of 1-10 out loud in Spanish without having to translate from English or take long pauses to figure it out.
Families that do not or cannot print a digital product.
What is your refund policy?
Because this is a digital product that is delivered instantly, there are no refunds. For this reason, we show you in great detail what's inside, so you can make the best decision for your family before you purchase.
Does this come in other languages?
In order to ensure the best quality of our products, we produce one language at a time.  The next language that will be available is French.
Does the workbook come with audio?
Yes! Native speaker audio is available and highly encouraged to be used with the workbook.
How many lessons are there?
Do I have to cut anything out?
There are 2 pages to cut out. These are colorful fruit tiles that you will use again and again for the 115 lesson.
Can my kids and I do the lessons on different days than are specified?
Yes. This program is all about setting the pace that works for your family.
Do I already have to know a lot of Spanish to do this?
If you're using Spanish in your home, working through our program, or have a child in a language immersion program, you'll feel very comfortable. This program is designed to teach both parent and child how to speak, think, and calculate in Spanish. There is English right next to all of the Spanish in the workbook. Please listen to the native speaker audio in the app video above to make sure this level feels good for you and your family.
How old should my child be to start this?
Knowing how to add in English or not being able to add at all isn't important for this workbook.
When learning this concept in Spanish, your child can either be just starting with addition or well past the basics in English.
This gentle approach can help children just starting out learning addition as well as a great tool to help older children move further down the path towards fluency. For the older student, ask yourself this question: can my child calculate basic equations in Spanish with the Spanish he has learned? If the answer is no, then this program is right for you.
Do I need to buy multiple copies?
Your license is for the number of copies you need with your immediate family in your household. So, if you have two children, you can print two copies. However, if you are a teacher or lead a co-op, for example, contact support@talkbox.mom, so we can give you a discounted rate for purchasing the number of copies you need to cover each student.
Can I use this with my students or co-op?
Yes, you will need to purchase a copy for each student. If you are a teacher or lead a co-op, for example, contact support@talkbox.mom, so we can give you a discounted rate for purchasing the amount of copies you need to cover each student.
Can I share this with my friend?
It's against the licensing terms you agree to when you purchase to share the PDF, companion app, or prints with your friends, extended family, frenemies, students, or co-op. See our terms below for more details.
What's included in the workbook?
In this 212 page workbook, there are 115 daily math lessons as well as 2 pages of cut out tiles to use with lessons. The workbook has a chapter focusing on each sum with its math facts. In each chapter, there is a different food the siblings in the workbook need to pick. As your child calculates their work, they work through all the math facts that add up to that specific sum. Your child also compares who picked more fruits and veggies, and crosses out their work for each day of that week that the siblings need to pick that food. There are three types of reviews for each sum: (1) grouping equations, (2) visually understanding and writing equations, and (3) completing addition problems while speaking Spanish.
I don't have a printer. Can I send it to Office Depot to be printed?
Of course! We recommend having it printed in color and double-sided on cardstock, so you can use it longer.
How do I print out the PDF?
If you need any help downloading and/or printing your printable, watch the video tutorial above. If for some reason you are still having trouble with downloading the PDF, our customer service team is happy to help you
Can this replace my other K-math curriculum?
Every math curriculum varies with what is taught at each level. We cannot guarantee this will be exactly equivalent to the math program you currently have.
Is this made by native Spanish speakers?
Yes, our translators, editors, and voice artists are all native speakers from Mexico.
Only logged in customers who have purchased this product may leave a review.
Refund Policy
Because you have instant access, there are no refunds available for this product.
About Us
We want your family to have life-changing results.
Because when you can actually use a foreign language, you and your family can do more good in the world, connect with other cultures as you travel, and expand your work and educational opportunities.
We believe in the powerful role of mothers in this world, and we believe that you learning with and teaching your child will make this world even better.
When you purchase a product from TalkBox.Mom, you're not only supporting a team powered by women, but you're also helping us to create more products for your family.
About Your License
Personal Use Only: This purchase is for one license for your personal use only. 
By purchasing our product or program, you agree to not copy, reproduce, alter, modify, create derivative works, or publicly display any content from this work, except for personal, non-commercial use. 
No redistribution: You may not reproduce, repackage, or redistribute the contents of these downloads, in whole or in part, for any reason. 
You can absolutely:
:: Save the files on your computer or personal cloud drive and print off copies for your immediate family's use.

:: Post pictures of your family using this product on social media and blogs, as long as TalkBox.Mom is properly attributed and, if applicable, tagged with @TalkBoxMom

:: Send this file to be printed by an online service if it is to be used by your immediate family.
You may NOT:
:: Print off copies for or send a copy of the PDF to another family, friend, frenemy, teacher, group, co-op, school, class, or any other person or entity. This license is for your personal use. Sharing it is stealing. (Instead, tell them where to purchase their own copy.)

:: Host, transmit, or store any of the files, resources, or images on your own or other sites in any format

:: Link directly to the PDF file

:: Alter or sell the files.

:: Sell files to make a profit, including reselling. These downloads are non-transferable.
Modification of Terms: I shall have the right to modify the terms of this Agreement at any time, which modification shall be effective immediately and shall replace all prior Agreements.
For more information, email support@talkbox.mom.