THE ITALIAN TALKBOX.MOM PROGRAM
What if Italian was as easy to use in your own home as English?

(even if you know nothing OR everything)

Start talking in Italian with your family the same day you start!
Nothing sounds worse than wasting time and money on language programs that don't have your child actually talking in Italian, causing them to miss out on educational and work opportunities that you would love for them to have
HERE'S THE SECRET…
As a parent, you're actually the MOST successful language teacher in the world.
Think about it…
Who taught your kids English?!
YOU!
TalkBox.Mom will give you the tools you need to teach your children Italian the same way you taught them English: talking as life happens.

(yes, even if you know nothing or everything)
TALKBOX.MOM IS DIFFERENT
DAY 1: YOU TALK
You'll talk in Italian with your family on the same day you start. You don't have to wait until year two or NEVER.
MADE BY NATIVE SPEAKERS
Our team of native speakers wants you to sound like a family from Italy. AKA: No outdated translations or computer formulated responses. This is the real deal with native speaker audio.
SAVE BIG MONEY
Each TalkBox.Mom box is equivalent to having an expert native speaker come to your home for at least $750 of their time. Our boxes are a seventh of the price.
HOW DOES TALKBOX.MOM WORK?
We have 2 tools that help families to start talking right away.
HOW TO USE THE PHRASEBOOK
1 Look for phrases that you want to say, need to say, and say all the time!
2 Practice saying those phrases with the native speaker audio in the companion app.
3 Use the phrases as life happens. Check out the example below to see how this would work for your family!
STEP 1: CHOOSE A PHRASE
Something I say a lot as a mom is, "Go to the car!"
This would be a great phrase because I say it when we leave the house, the park, or Chick-Fil-A.
My kids also say it to me on repeat if I'm talking too long after church ends.
I would heart this phrase in the book and companion app.
STEP 2: PRACTICE WITH THE AUDIO
STEP 3: USE THE PHRASE
MOST FAMILIES USE THE BOOK WITH THE TALKBOX.MOM BOXES

WHAT'S IN THE TALKBOX.MOM BOX?
In each box, there are 3 different challenges to help you get really specific.
The layouts change in each box depending on what you are learning.
The first box is The Snacks & Kitchen Box.
Here's a peek of the core challenges.
CHALLENGE 1
CHALLENGE 2
CHALLENGE 3

Our layouts are so smart and beautiful, that you won't realize you're learning hundreds and thousands of new phrases.
HOW TO USE THE TALKBOX.MOM BOX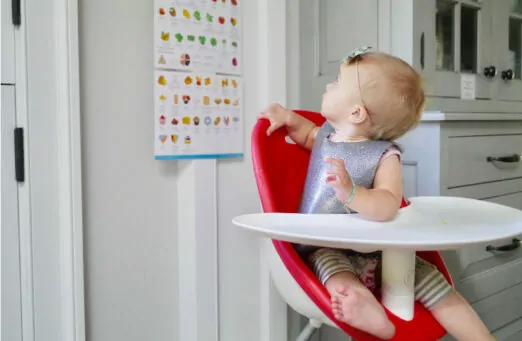 1 Put up your language guide in your home or use with the activity.
(Not hidden in a binder!)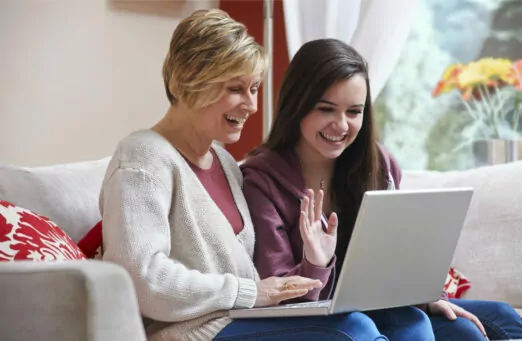 2 Practice with the native speaker audio. Families typically spend 5 – 20 min a day practicing.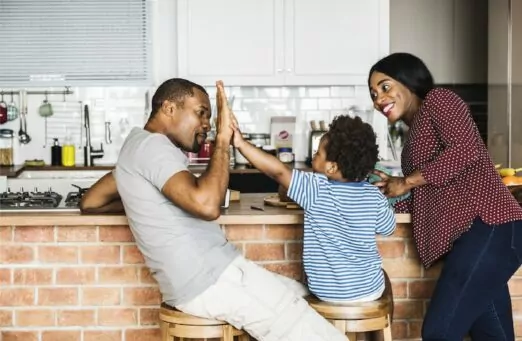 3 Use the phrases as life happens. Move on to the next challenge after 1-4 weeks.
STEP 1: PUT UP YOUR GUIDE.
STEP 2: PRACTICE WITH THE NATIVE SPEAKER AUDIO
STEP 3: USE THE PHRASES AS LIFE HAPPENS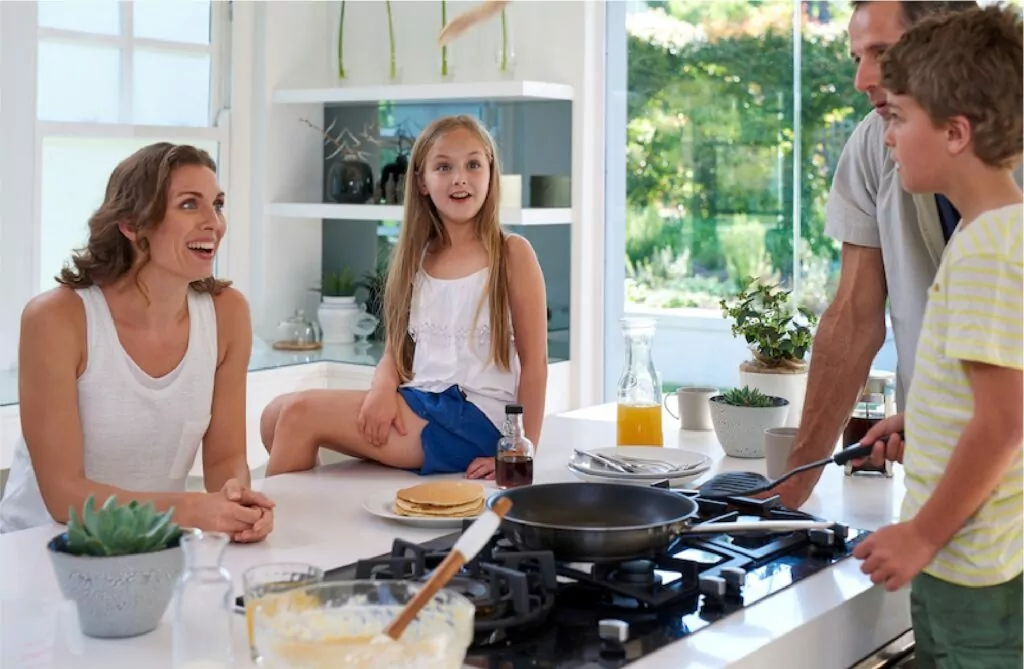 CHALLENGE 2
This isn't a vocabulary chart. Rather, everything is written PROPERLY to fit into all the sentences at the top of the posters.
So if you sliced up apples for your kids, you could look at the phrase at the top for "Do you want…?" (to 2+) and add it to apple slices to sound just like a native speaker.
CHALLENGE 3
These aren't flash cards. These cards go near the item you're talking about, so you can use them easily.
For example, I have the bowl, plate, and cup cards on the inside of my cabinet doors where I have those items. I open it up, remember we're using Italian, and use one of those phrases.
SAVE A TON OF MONEY
If a native Italian speaker came to your home and did everything in a TalkBox.Mom box with your family, it would cost
at least $750 per child.
We took that native speaker experience and put it into an
$90 box
for your entire family.
That's only $10 per week for your entire family to be speaking Italian if your boxes come every two months!
And you can have your boxes come faster or slower.
After 6 weeks, we have passed up all five years of trying to learn.

Jessica Christensen
We are having fun and actually speaking!

Amanda + Family
Order your talkbox now
Free U.S. shipping!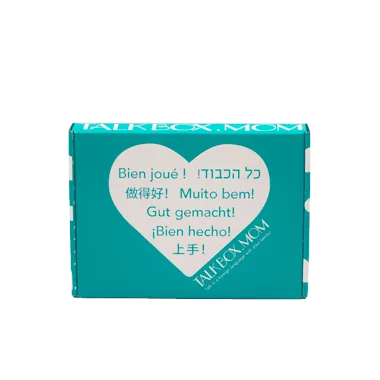 1 Box
Pay as you go.
Renews every 1, 2, or 3 months.
Cancel future renewals anytime.
Select this plan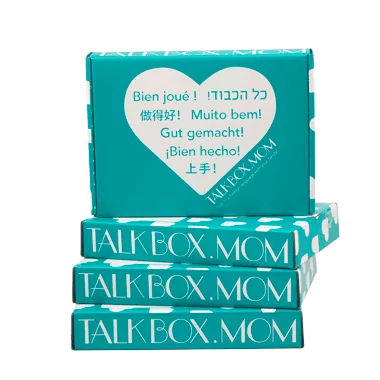 4 Boxes
Prepay and save!
Pay
$

344
upfront. Renews every 4, 8, or 12 months.
Cancel future renewals anytime.
Select this plan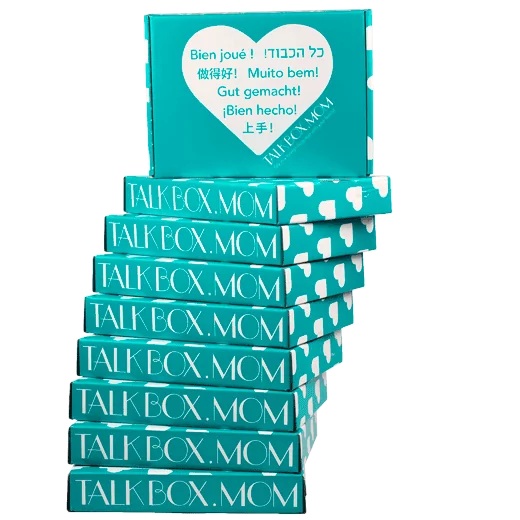 9 Boxes
Prepay and save!
Pay
$

738
upfront.
No future renewals.
Select this plan
Our program has been updated to have 9 boxes total. Our web shop is currently being updated to match this change.
Want to order just the phrasebook Use Italian at Home?
Includes app access for the book.
Buy Use Italian at Home
If you just want to get your toes wet, you can start with Use Italian at Home all by itself. Then when you're ready to dive deeper, you can order your Italian Talkboxes.
Use Italian at Home comes with a bonus of all the native speaker audio for Use Italian at Home in the Companion App.
We are speaking throughout the day on a regular basis.

The Murphy Family
This allows us to incorporate learning into our everyday lives, and it's working so well!

The Pittner Family
BONUSES? YES, PLEASE!
When you purchase a TalkBox.Mom membership you also get these amazing perks:
TALKBOX.MOM COMPANION APP
Turn heads, blow minds, and practice without anxiety or judgement. Plus, access hundreds of bonus phrases with your life-time, non-transferable app access for every family member living in your household.
SAVE $10 ON USE ITALIAN AT HOME
When you purchase your first box with Use Italian at Home, you'll get a coupon to save $10.
(only one coupon may be used at checkout)
HOW TO BE 100% SUCCESSFUL
Know exactly how to reach your goal and be successful with our video training and one page PDF guide to success.
ACTIVITY & GAME PRINTABLES
Have fun while practicing what you're learning with our bonus printables that compliment each TalkBox.Mom box.
ACCOUNTABILITY EMAILS
Opt in to receive accountability emails that keep you on track each week, providings tips and motivation to keep you going strong!
FREE SHIPPING
We cover shipping in the United States and territories. We upgrade our U.S. military families for free priority shipping if they have an APO or PPO.
WE WANT YOU TO BE SUCCESSFUL
Every family who's committed to doing the TalkBox.Mom program has successfully used a foreign language in their everyday lives.
While we don't offer refunds on purchased boxes, you can absolutely pause or cancel future payments with no fees. No hassle. No fuss. No questions asked.
We also offer a free download of our mini snack chart, so you can test it out.
WHAT ORDER DO THE BOXES GO IN?
Whether you are a native speaker whose kids don't talk back or just starting, the boxes go in this order. Our goal is to get you talking CONSISTENTLY as you move through your life. If you know more, you can go through the boxes faster.
Below is the box order and release dates.
Hello! I'm Adelaide, the creator of TalkBox.Mom.
Something that's very special about our family is
And this is what I poured into TalkBox.Mom.
With my research and professional experience (yes, I'm a hot nerd), I worked with a team of native Italian speakers to create TalkBox.Mom to give families the tools to move quickly down the path towards fluency.
And thousands of families have found this same success with TalkBox.Mom:
I don't want you to be stuck in the same spot you are in now next year. Get your first TalkBox.Mom box, and start talking!
THIS PROGRAM WILL NOT WORK IF…
If this is you, get your hand off the mouse and do not hit that buy button!
No, no! I actually like my kids and want to talk in Italian with them!
FREQUENTLY ASKED QUESTIONS
Can you order the TalkBox.Mom box without getting a subscription?
Girl, you can checkout and then pause your account right away. Then whenever you want your next box, you can take your account off of hold, choose that day's date, and then put your back on hold after your order goes through. Easy, peasy. These subscriptions are made for families.
Can our whole family use the app on different devices?
Yes, your whole family living in your household can use the app! You have lifetime, nontransferable access to the app. Your family will use the same login on multiple devices because you work together to master and check off phrases. This is a team effort!
What devices does the app work on?
The app was made for iPhones or Androids. Families also use it on the iPad. You will need to have a WiFi or data connection.
Can I have a different app logins for different family members?
Nope. This is a family thing where you learn the phrases together.
How long will I have access to the app or online companion?
Your family has lifetime access because you might want to go back and practice things that are fading. Or you might want to repeat the boxes when you have another child or your children enter high school.

When you purchase a box, the companion app and audio downloads are only licensed to your family living in your household. This license is non-transferable. So lifetime access is only for your family living in your home. 
What if I download the app without purchasing a product?
You can do that, but there won't be any boxes or books in the app. Only when you purchase a TalkBox.Mom product will the app show that product in it.
Can we skip boxes or do they go in a specific order?
The boxes do go in a specific order because they get more intense as you move forward. For example, your cards in Box 8 don't have English on them. If you already know a lot of Italian, you still start with Box 1. We're concerned about you actually using what you know. So we'll get you talking consistently and then start adding on more things. We recommend going faster if you already know more.
What if my family knows A LOT of Italian? Do we need to start with the first box?
Yes! It's not about what you know. It's about how much Italian you are actually using. If you aren't talking consistently in Italian every day, start with box one.

If you are talking in Italian with your family throughout your entire day, then you don't need our program!
Does this program have audio?
Yes, that's a huge part of our program. All the audio is from native speakers–not a computer. You will hear how words and sentences are said naturally inside the TalkBox.Mom Companion App.
Do you have CDs?
No, we do not offer CDs. We are always adding bonus and requested phrases, so CDs would get dated very quickly. You will need to access the app via WiFi or data on an iPhone or Android device. Or you can log into your web browser to access your TalkBox.Mom subscription box. For some challenges, you can download the full audio; however, this is only recommended after you have also learned the bonus phrases in the app.
Do you take returns?
You can cancel future payments any time. But we do not take returns on subscription boxes. We know that if your family works through a box, you'll be talking even more. Because you get instant access and our boxes are so good, we do not offer returns on purchased subscription boxes. Be sure you are ready to commit before you hit buy.
What if my family doesn't learn?
That means that your family didn't do the work. If your family can speak English, they can start using Italian. If you don't want to do the work to use Italian every day, do not buy this program.
Who wrote the Italian?
Not me! We only have NATIVE speakers, who are professional translators, editors, and voice artists, work on our program. These speakers don't directly translate either. Instead, they tell you what they would say in a specific situation, so you actually sound like you grew up speaking Italian.
Where is this Italian from?
This Italian leans towards the Italian spoken in Italy.
Can I resell my box or share it with a friend?
The audio downloads and app access is non-transferable. Your license agreement for the audio and app when buying our program is only for your family living in the same household. It is illegal to allow other families to use your app access or send our audio downloads. Your app access will be revoked without a refund if you allow multiple families to use your access or transfer the ownership.

Our company is made up only of women and minorities. We appreciate your support by purchasing our products if you love them and want to use them. Send your friend to the ball challenge , if they want to start!
Who do I contact if I have a question?
If you have a question now or in the future, our customer happiness team is excited to help you and make sure you are having a great time! If you have language questions, you can send it their way as well, but they will ask our Italian team first. Please contact them at support@talkbox.mom.