When you jump into the Outdoor Scavenger Hunt in Spanish, you'll be talking right away with your family in Spanish. This means you'll actually be using Spanish together as you're outside on walks, exploring nature!
DIGITAL DOWNLOAD
When you're out in nature with your family–whether that's outside your own doors, in the mountains, or at the beach–there are so many things around you to discover. If your children are like, "How do you say this or that in Spanish?" or your want your children to be asking those questions, it can be really overwhelming because there is SO much to talk about.
Plus, you don't want to just look up a bunch of random vocabulary words that sound way too official or are outdated… you want your family to sound like native speakers talking in complete sentences as you discover the world in Spanish.
And, let's not forget, you don't want to be overwhelmed outside with kids running in different directions as you're trying to learn. You want your kids prepared ahead of time and feel confident as they're out in nature talking about it in Spanish.
The Spanish: Outdoor Scavenger Hunts have three different activities to introduce tons from the outdoors into your life–without creating overwhelm. True, there's a lot in them! But you'll be able to work on all of it over the next couple of weeks or months while playing different activities and practicing with the native speaker audio in the companion app to increase confidence.
With the memory cards and bingo cards, you'll be using complete sentences as you practice what you'll see on your scavenger hunts. Then on your scavenger hunts, you'll be using complete sentences as you and your children focus on using your Spanish as you find or don't find these items.
Then, the next time you're in the great outdoors, you and your children will be spotting and talking about nature effortlessly in Spanish!
PRINTABLE SNEAK PEEK
SCAVENGER HUNT CARDS
MEMORY CARDS WITH PHRASES
MEMORY CARDS WITHOUT TEXT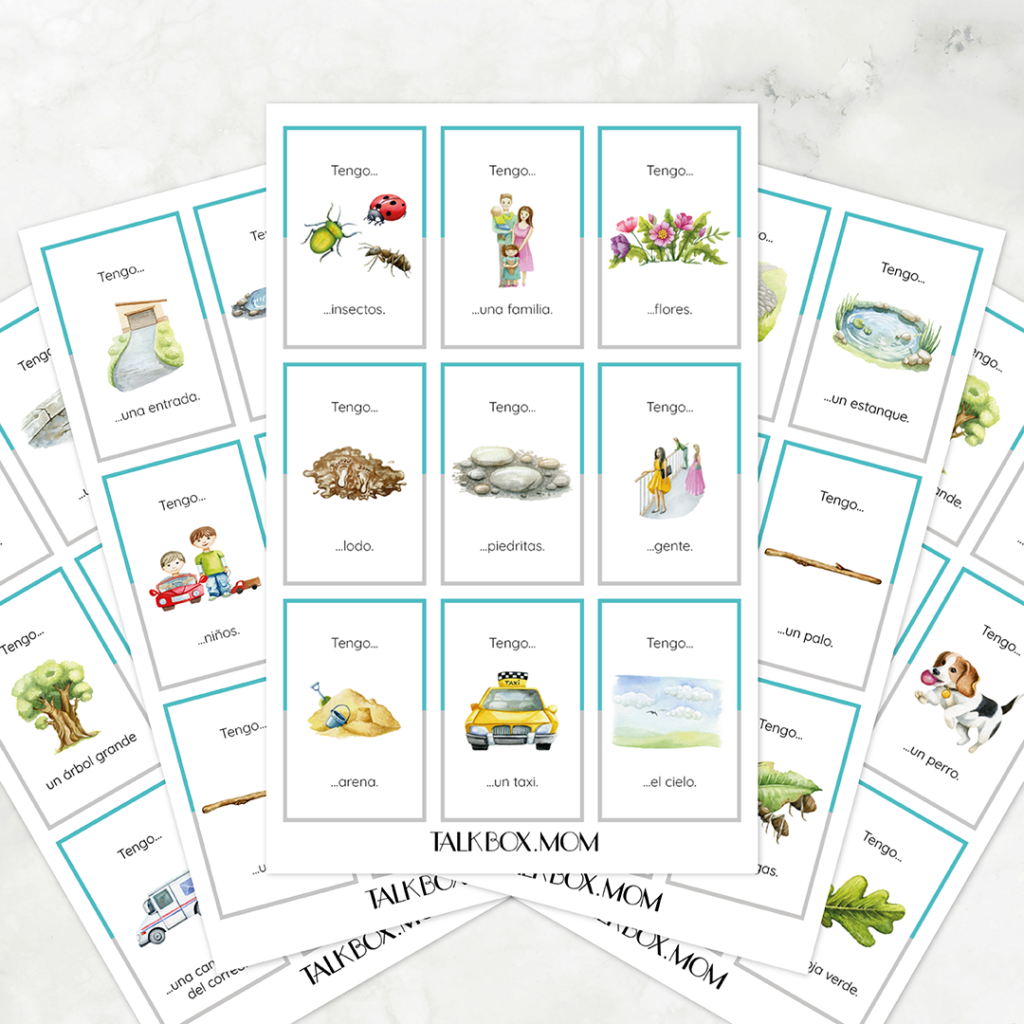 BINGO CARDS WITH PHRASES
BINGO CARDS WITHOUT TEXT
NATIVE SPEAKER AUDIO IN THE APP
WHAT HAPPENS AFTER YOU PURCHASE?
HOW TO DOWNLOAD & PRINT YOUR PURCHASE
WHO IS THIS RIGHT FOR?
WHO IS THIS WRONG FOR?
FAQ
Refund Policy
Because this is a digital product that is delivered instantly, there are no refunds. For this reason, we show you in great detail what's inside, so you can make the best decision for your family before you purchase.
About Us
We want your family to have life-changing results.
Because when you can actually use a foreign language, you and your family can do more good in the world, connect with other cultures as you travel, and expand your work and educational opportunities.
We believe in the powerful role of mothers in this world, and we believe that you learning with and teaching your child will make this world even better.
When you purchase a product from TalkBox.Mom, you're not only supporting a team powered by women, but you're also helping us to create more products for your family.
ABOUT YOUR LICENSE

Personal Use Only: This purchase is for one license for your personal use only.
By purchasing our product or program, you agree to not copy, reproduce, alter, modify, create derivative works, or publicly display any content from this work, except for personal, non-commercial use.
No redistribution: You may not reproduce, repackage, or redistribute the contents of these downloads, in whole or in part, for any reason.
You can absolutely:
:: Save the files on your computer or personal cloud drive and print off copies for your immediate family's use.
:: Post pictures of your family using this product on social media and blogs, as long as TalkBox.Mom is properly attributed and, if applicable, tagged with @TalkBoxMom
:: Send this file to be printed by an online service if it is to be used by your immediate family.
You may NOT:
:: Print off copies for or send a copy of the PDF to another family, friend, frenemy, teacher, group, co-op, school, class, or any other person or entity. This license is for your personal use. Sharing it is stealing. (Instead, tell them where to purchase their own copy.)
:: Host, transmit, or store any of the files, resources, or images on your own or other sites in any format
:: Link directly to the PDF file
:: Alter or sell the files.
:: Sell files to make a profit, including reselling. These downloads are non-transferable.
Modification of Terms: TalkBox.Mom shall have the right to modify the terms of this Agreement at any time, which modification shall be effective immediately and shall replace all prior Agreements.
For more information, email support@talkbox.mom.