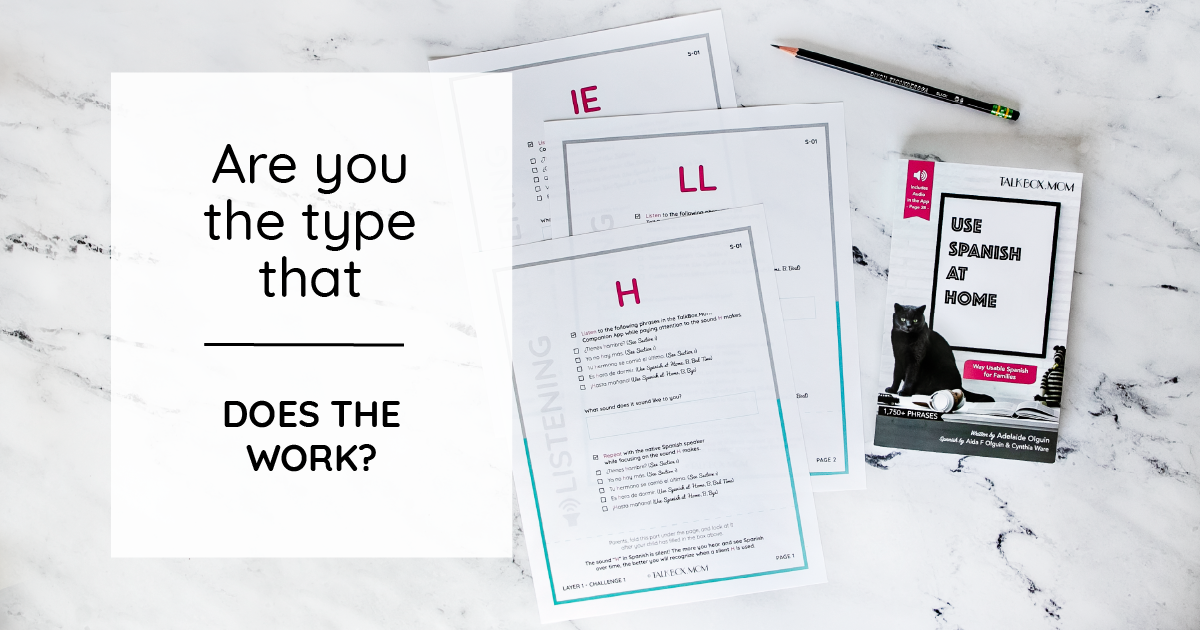 It's no secret that TalkBox.Mom families get results: our kids can actually speak and understand a language with fluency. But not because we were born that way.
A lot of TalkBox.Mom families start not knowing the language. Like, knowing nothing.
And a lot of families have native speaking parents but… their kids respond in English.
Despite this, our TalkBox.Mom families learn to use a language together every single day.
Because we DO. THE. WORK.
We don't just put our kids in front of a screen and walk away… hoping something magical will happen.
Nah. We've got reasons for learning a language, and we won't leave it up to chance or statistically poor outcomes like that!
We follow a proven process:
We choose phrases to use from our guides as a family.
We practice those phrases with the native speaker audio and in situations.
And then we use those phrases together in our real life.
We do this because we have reasons for getting results.
Like Rachel who has dreamed of being a bilingual family forever and is working every day towards her goal as her family uses Spanish more and more.
Or Kaeti, who is making up for lost time with her kids because her family didn't pass on German to her, which her mom and grandma speak.
Or, Rachel again. Don't judge her. She can have more than one reason. lol
And Jarin, who is learning Spanish with her kids to communicate with her family. But she isn't going to stop at just Spanish!
Or Heather, who has a reluctant learner who hated the idea of learning a foreign language, but she knew it was important, so at one sign of interest, she jumped in!
And not to forget Erika, who is on fire speaking Korean with her family! She wants to use the language because her extended family speaks Korean and she has goals to move to South Korea. Get it!
Or Danielle who loves French literature as well as connecting with her community in Spanish, so they're using both languages!
Or Courtney who always wanted to learn French herself and then have a bilingual family. I love watching her dreams come true every single day!
Or Amber, who has a dream of being trilingual. Get it. Get it. Get it!

What's on your heart?
Why do you want to really be able to use a language with your family?
Because if you want results, you know where they're at.
Following our easy, proven process has thousands of families connecting with their community and extended family this summer.
And your family can totally join us and start talking.
Your family can DO. THE. WORK.
You can do it.
Take what's on your heart and go after it.
xo,
Adelaide
Creator of TalkBox.Mom
P.S. If you're afraid that you won't be consistent, you NEED to join our fun and suuuuuper active Accountability Group filled with smart moms who will keep you motivated and accountable. This bonus is included in the TalkBox.Mom program.