Are you wanting to seriously stay on track? Maybe you find yourself trying to focus on TOO many phrases all at once.
Or you're skipping around by listening to one phrase without ever practicing that phrase in a situation or using that phrase as life happens… then you jump to another phrase to listen to, and you're left wondering why your family isn't really using your phrases together… (Hint: It's because you're missing the three critical steps of the TalkBox.Mom Process.)
Or maybe you're doing multiple languages, and you want to make sure you're moving forward equally in both of them.
BUT! You can't see if you're doing too much or too little, and you feel lost not being able to check all the boxes to move forward. After all, you're a box checker! Where are your boxes for your boxes?!
The Phrase Planner by TalkBox.Mom will not only give you boxes to check, but it will give you the RIGHT boxes to check. When it comes to really using a foreign language with your family, there are three critical steps that you need to focus on, and the Phrase Planner won't let you miss a beat.
Choose a Phrase from your Guide
First, the Phrase Planner will help you choose your phrases without picking too many or guessing about what you're focusing on for the day, so you don't feel scattered all over the place but focused to make progress. Plus, the Phrase Planner will guide you on how many phrases to choose from your boxes and from your other guides, like your phrasebook.
Then at the end of the day, the Phrase Planner will give you a clear picture and process for moving phrases to work on the next day, checking phrases off your list, and moving phrases to the Sink-In Zone, so they can sink in over a week or two.
And don't worry, the Phrase Planner will give you space to store the phrases you're dying to work on but aren't ready to focus on today.
Practice your Phrase
Second, the Phrase Planner will help your family SLOW DOWN to practice your phrases in three distinct ways. And as you know, when we say SLOW DOWN at TalkBox.Mom, we really mean focusing on what's important and skipping the busy work, so you can make real progress while passing up years of "trying" to learn.
And if your family has ever listened to the audio straight through for a section or challenge when you're learning, you definitely need to slow down and follow the TalkBox.Mom process instead, so your family can make more progress USING your phrases.
The Phrase Planner will have you focusing on exactly what you need to:
(1) The Phrase Planner will slow your family down to focus on listening to ONE phrase at a time. By announcing the phrase in English and saying the phrase with the native speaker audio, your family will make more progress than listening to 100 phrases all at once.
(2) Next, to help your family make the phrases real, the Phrase Planner slows you down to practice the phrase in a situation. Whether you need to work on a phrase for one day or for 15, you'll be able to practice the phrase in a situation each day, doing the work that matters.
(3) The Weekly Activity Plan will give you space to plan out ways you can practice your phrases through extra activities, like our printable games. This part is totally optional! If you can't do more here, don't! Just focus on practicing your phrases by repeating with the audio and practicing them in situations.
Third, the Phrase Planner will help you make sure you are doing the most important step, using the phrase as life happens *after* your family is all on the same page from steps one and two. No bulldozing allowed here.
If your family is focusing each day on these three critical steps, you'll find your family filling your day more and more with your new language. But as you know, getting through all these checks aren't as important as HOW we get through them. So the Phrase Planner has a weekly check-in for your family, so you can see if you're getting in each other's way or creating a solid environment to use a second language together.
If you want to check all the boxes as you use the TalkBox.Mom Process to work through the program, grab your beautiful copy of the Phrase Planner today!
DAILY PHRASE FOCUS PAGE
Each day breaks up your phrases into two sections where the phrases from your box are on top with 1 to 5 spaces for phrases, and the phrases from your other guides, like the phrasebook or Homeschool Phrases, are on the bottom with 1 to 3 spaces for phrases.
By breaking up your focus like this in such a flexible way, we're able to help focus more heavily on your box, which uses more patterns to help you learn faster. And then, we also give you space to balance that focus with 1 or maybe 2 phases from your other guides to keep up with your other interests.
However you mix and match phrases from your different guides, the goal here is to not go over 5 phrases collectively, so you'll be able to make focused progress without overwhelming your family.
CHECK OFF WHAT'S IMPORTANT
After choosing your phrases, you'll then be able to focus on what matters. You'll check off the three important things to do with each phrase. This will help the phrases become real for your family even faster as you track that you're fully using the TalkBox.Mom Proven Process. You'll be able to see where you're getting stuck in the process— like not listening to the native speaker audio and repeating after you listen or not using each phrase as life happens.
A FILLABLE HEART FOR REPEATING WITH THE AUDIO
The first heart to color in on the Phrase Planner is for practicing the audio. This means announcing what the phrase is in English, so you can make eye contact and have everyone's attention, and then saying the phrase after the native speaker.
Practicing the audio while having someone announce what the phrase means in English is so essential to your progress. Studies show that there is a significant impact when a human is part of this progress and even more so if it's a parent or older sibling.
And even if you have a native speaker in your own home, listening and practicing with the native speaker audio in the app will help your whole family get on the same page and know which phrases you're focusing on using today. It will also give your children an opportunity to say that they don't remember what a phrase means or ask you questions. And of course, it will help your listening and speaking as well!
A FILLABLE HEART FOR PRACTICING THE PHRASE IN A SITUATION
The second heart in the Phrase Planner has you check that you practiced the phrase in a situation.
This means that your family practiced the phrase by saying it how you would say it when you are rushed or tired; or perhaps you acted out the situation you could use it in.
This is vital to making the phrase feel real for everyone in your family and helps you to remember to use the phrase in those situations. Skipping this step would definitely slow down your progress, so the planner makes sure that you don't miss it!
A FILLABLE HEART FOR USING THE PHRASE AS LIFE HAPPENS
The third heart in the Phrase Planner has you check that you used the phrase as life happens.
This means that even if you had to safely peek at your language guide or play the audio again before you said the phrase, you were able to use it in a real life situation!
If your family didn't quite understand the phrase, this also means that you Ice Cream Sandwiched it–you said the phrase in the foreign language, then in English, and then in the foreign language again.
By using the phrase as life happens while everyone understands you, you're starting to make the language a real part of your life, which is the ultimate goal!
SYMBOLS TO MARK YOUR PHRASES PROGRESS
At the end of the day, you're able to look over your phrases and decide what your next step is with each phrase. You can check off a phrase if your family is using it easily. This means the next day, that space is free for another phrase. Or you can draw in a right arrow, meaning that you want to work on that phrase tomorrow, and you can then write that phrase on the next day. You can also mark a phrase with a down arrow to note that you need it to go to your Sink-In Zone, so you can lightly review it for a week or two until it finally sinks in. Lastly, you can mark a phrase off your list because it's just not the right time to work on it. As you move your phrases to the next day, you're able to work on each heart again to help make that phrase more real.
You're also able to see which phrases have moved off your list, so you can easily add in a new phrase that you've been saving in your Biweekly Fill Up Zone. This will help you to keep moving forward without missing a beat.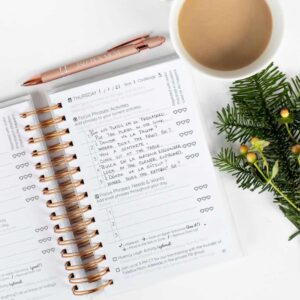 FILL IN YOUR OWN DATES
You will be able to fill in your dates, so if you go away for two weeks and don't use your planner, you can jump right back into where you left off without wasting any pages.
This also means you can start the planner whenever you would like! You won't waste a week because you started using it a week later, and you don't have to wait for the beginning of the year or school year. You can jump in right now and get going!
A CHECK BOX FOR YOUR FLUENCY LAYER ACTIVITY
If you've chosen to do the optional fluency layer activity, you'll be able to check in with your weekly plan to see what you had scheduled for that day. Then you can complete your activity, and check off that you finished your activity for the day.
If your days aren't as predictable, you can skip this optional checkmark and only check off activities on your Weekly Activity Plan as you get to them.
CONNECT WITH THE TALKBOX.MOM COMMUNITY
The last part of the Daily Focus Page is where you mark if you've checked in with us in the private Accountability Group. The private accountability group is a great way for TalkBox.Mom families to support and encourage each other. We're also there to support you when you feel stuck. If you're having any struggles or if you're feeling accomplished in a certain area, this is where we want to support or celebrate with you!
The Phrase Planner helps remind you of the different support and celebrations we share in the community, so you don't miss out on these opportunities.
If you're not on Facebook, you can always check in via email at community@talkbox.mom, and our community manager will support you as well.
WEEKLY REVIEW
Because it matters that we teach a language with love and support, the Weekly Review helps you to focus on what's important and helps you to see if you're getting in your own way. This will help your family to reset to work together in a way that helps everyone learn confidently and happily and celebrate your progress.
WEEKLY SINK-IN ZONE
Keep in mind that some phrases you're learning just take longer to remember. Maybe you've worked on a phrase and it's just taking a while to remember, or it's taking longer for one person in your family to remember a specific phrase.
The Weekly Sink-In Zone helps you to keep a tab on that phrase without filling up your learning area, which is meant for just the 1-5 phrases you're focusing on learning.
You'll be able to keep an eye on that phrase without having to focus so heavily on it in your Focus Phrases because that might feel exhausting to some family members. Instead, you'll focus on new phrases while you gently review the phrase that has you or a family member stuck.
BIWEEKLY FILL UP ZONE
Once you've had success learning some phrases, you might be inspired by those phrases and notice other phrases you want to learn ASAP, but you can't focus on all the phrases at once!
Add these phrases to this Biweekly Fill Up Zone, so once you mark off a phrase, you can add in the next phrase you're dying to get to next!
We recommend using this section, so each family member can make a list of upcoming phrases they recommend, and you can take turns picking from each family member's list.
PLAN FOR FLUENCY
The TalkBox.Mom Program focuses on fluency! The Phrase Planner is built around fluency, so it's extremely important that you understand how fluency works.
There are lots of misconceptions of what fluency is and how it works, which leaves people focusing on the wrong things to become fluent.
This guide will help you know what to focus on and most importantly WHEN to focus on different layers of fluency.
WEEKLY ACTIVITY PLAN
At the beginning of the week, you'll use this guide to focus on the fluency layer your family is currently building. Start with the most important layer— Talking and Listening, instead of skipping ahead to other layers, which would leave you building on a weak foundation.
You can choose specific days to do each activity or simply make a list of activities you want to do. Then you can choose to do the activity on any day, so you don't feel tied to a specific plan, which could make you sad if you didn't stick to it!
YES, ROSE GOLD O-RINGS!
It's always nice to have something nice! Besides being cute to look at, this Phrase Planner lays flat, so you can leave it out and constantly look back. It's easy to write in, and it's easy to put in your purse for when you want to practice on the go.
You can also flip it to show only one page at a time, so you can stay focused on that specific day.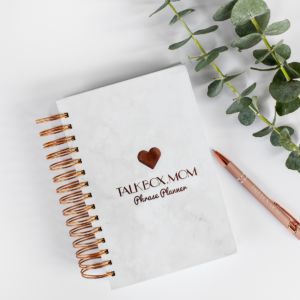 A SMART CONCEPT IN A BEAUTIFUL PLANNER
With the beautiful design, you'll have no problem keeping this out where the whole family can see it and use it all day long.
A SIX-MONTH PLANNER
The Phrase Planner is intended to be used over a six-month period, so it's not too big— just the right size to carry in your purse or diaper bag. And not so big that you feel overwhelmed filling it all in.
WHO IS THIS

RIGHT

FOR?
TalkBox.Mom Families because the Phrase Planner is meant to give you extra help to keep you on track through the program.
People who like to physically write out things.
People who need more structure and checkmarks.
Homeschool families who want a record of what they worked on each day and not only an end of course certificate, like for high school or states that require written proof of completed work.
WHO IS THIS

WRONG

FOR?
Families that don't use TalkBox.Mom.
People who don't like to write things out. If you're a digital person, you can rely on the app!
People who don't like checking boxes. You're fine following the process and boxes give you anxiety.
Families that have no issue in keeping track of what they're working on each day.
Yes, of course! Everything you need to be successful with the program comes in the box! This Phrase Planner is just a special add-on for those who love to check things off their list or who might need a little more help with planning their language learning for the week
Yes, of course! Everything you need to be successful with the program comes in the book! Yes! The Phrase Planner is for anyone who wants to have their language goals written down and have a space dedicated to the phrasebook. However, we do suggest that if you are wanting to become fluent in a foreign language, you purchase our boxes, which focuses more heavily on language patterns.
Yes! The Phrase Planner is for anyone who wants to have their language goals written down and have a space dedicated to the phrasebook or homeschool phrases. However, we do suggest that if you are wanting to become fluent in a foreign language, you purchase our boxes, which focuses more heavily on language patterns.
The Phrase Planner is detailed, meaning it is quite thick coming in at 338 pages. A one year planner would not only look overwhelming but be difficult to carry around. The six-month planner is perfect for working towards a reasonable goal and feeling accomplished halfway through the year. From there, you can decide to use your digital copy that comes with your purchase or get your second planner!
Totally understand. You can use the digital copy and continue to print it out as much as you like! Similar planners with o-rings can cost $40+ for six months, so we did price this beautiful planner as low as possible!
There are different options if you're learning more than one language. You could use the same Daily Page for all languages but use a different color for each of them. You could purchase multiple planners and have a different planner for each language. Or you could use one week for one language and the following week could be the second language, creating a three-month planner.
You're working on too many phrases! The FOCUS should be on 1-5 phrases to make a lot of progress.
You can print the Phrase Planner for your immediate family as many times as you want. (The license does not extend to extended family, friends, co-ops, frenemies, etc.)
You can send it to Office Depot or whoever your favorite printer is. We recommend having it printed double-sided.
Then please skip the Weekly Activity Plan! It totally says "optional" on that page in the planner, so you don't feel overwhelmed. When you start getting your footing, you might want to add one or two activities per week by using our free printables with your boxes.
You'll be able to use 100% of the Phrase Planner! The First Fluency Layer focuses on Talking & Listening. If you choose to do Fluency Activities, you'll just choose activities from the First Layer.
Because we want you to be fluent! To read more on fluency, click here.
The Phrase Planner focuses on the three critical steps you need to take to really use a language as a family. A standard planner wouldn't track if you're checking all the right boxes.
Because you like pretty things and don't want to spend time printing it out yourself!
No worries! The TalkBox.Mom Companion App's Learning Section and Using Section will help you keep track of your progress. You can use that as a digital planner! (Don't heart more than 5 phrases!)
No, the digital PDF is a bonus. The planner is only available with it. If we remove the PDF from your account, the planner will still cost the same price.
Yes, the planner will help you work through your boxes if you need extra help. I think you'll absolutely love it! After you order, there are videos on how to use the planner to work efficiently through your boxes by doing the right things. Be sure to watch that after you order!