Talk in Spanish with your family!
START TALKING SPANISH
RIGHT AWAY.
Watch to see how your family can start talking from day one!
Start talking with your family the same day you start.
Actually use Spanish every day with your kids!
Continually move down the path towards fluency.
Teach and learn Spanish the same way you learned your first:
Talking while life happens.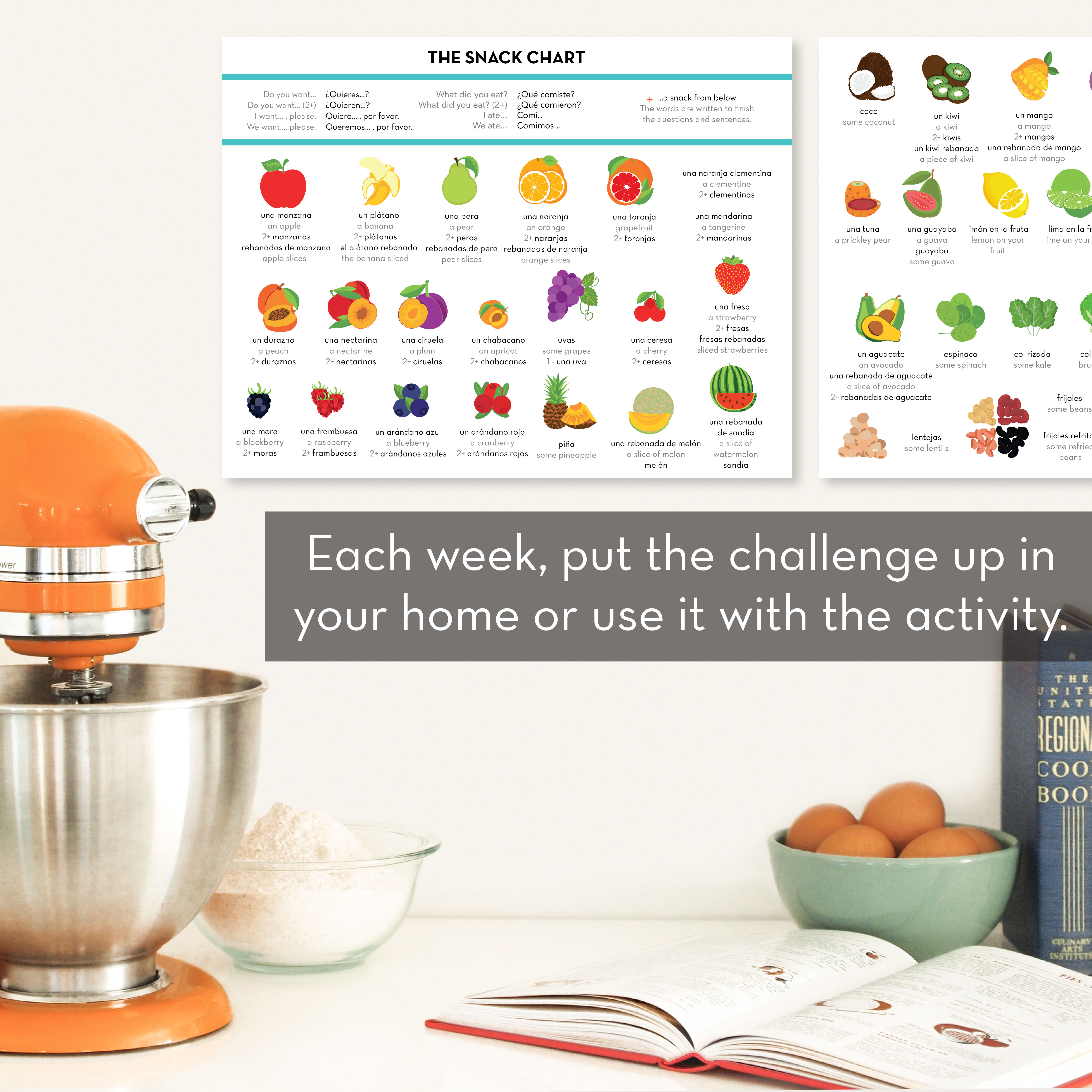 Put the Spanish challenge up in your home or use it with the activity.
Listen to native Spanish speaker audio. Practice hearing and saying the phrases.
Use the Spanish phrases as a family to master the challenge.
It's such a fun and innovative approach to learning a new language by doing what moms do best, TALKING with their kids. 
– Evie

In just a few short weeks all of our kiddos, even those that aren't "required" to speak Spanish are doing so willingly and easily.
– Erica N.

3 Challenges in each TalkBox
Phrases & activities to get your whole family talking.
Native Spanish Speaker Audio
Listen online or download the audio to as many devices as needed.
Each TalkBox has a Theme
Snack & Kitchen • Getting Dressed
Arts & Crafts • Entertainment
Nature • & much more!
Learn what you actually need to say, and use it every day!
Inside the Spanish Phrase Book
In one week with this book, we used more Spanish than we did in 2 years of homeschooling Spanish. In 6 weeks, I passed up all 5 years of trying to learn Spanish.
– Jessica, mom of 4 –
Use What you are learning
Our books have real phrases families use, like "Good night! I love you," and "Stay in your bed." "Don't get out of your bed." "Go back in your bed." "Stop bothering your brother."
Your day quickly turns into your entire family practicing a new language all day long while living your life. Aaaaand it's addicting.
Simply by adding 5 or so new phrases a day to your life, you will start transforming your day into a new language. Plus, all our translations are by native speaking mothers, so you know you'll sound legit.
Why Families Love TalkBox
Use Spanish at Home has made learning language with my kids easy and fun! The phrases are all practical things I talk about with my daughter. I love the organization and marking off phrases we want to learn or ones we have mastered!
– Jaicy M.
I have this book and we LOVE it! My daughter already knows some Spanish but this is helping her talk to her siblings more. We are having such a fun time reading the everyday phrases. I'm excited to continue and learn right along with them!
-Cassie S.
Love this book and the audio!! So glad I was able to get 2 extra copies for my sisters! My kids (9, 7, 2) are enjoying learning and their simple single words are expanding into phrases!
-Brooke M.
See how simple learning a foreign language can be. Click below to start the free ball challenge.
[rev_slider_vc alias="talk-box-mom"]