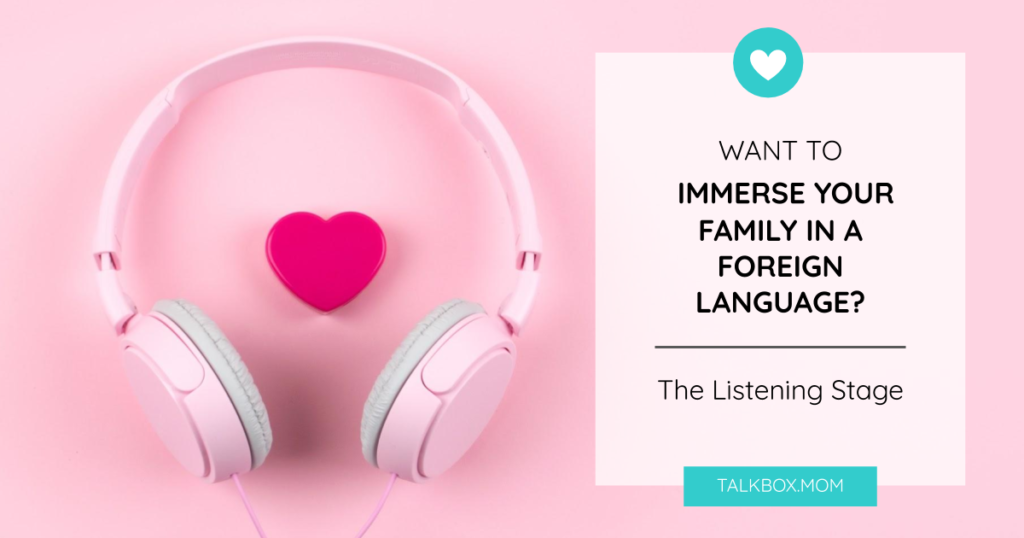 This month in the private TalkBox.Mom Hotshot Group, we're focused on helping your family be 100% successful talking in a foreign language.
Thursday's FB Live Training for TalkBox.Mom customers was all about how to immerse yourself in the listening stage.
Once you have the listening and talking stage down, then reading, writing, and grammar are so much easier! So you want to spend more of your time laying down the foundation in the listening and talking stage to create a real path to success.
To get started, you're already listening to the audio in the companion app, and it's SO important that you're hearing native speakers. So A+ there. When listening to the native speaker talk, to be effective, you need to use the phrase as a family. This allows you and your child to make the connection between what you're saying and what you mean.
When you're able to make this connection, then you aren't translating each word into English in your head. Being able to attach meaning without translating word by word moves you closer to fluency.
So the key to being effective is working on phrases. When you work on phrases, you're then able to listen for the words you know when immersing yourself in the listening phase. Being able to pick out words is crucial.
As you listen to a native speaker talk, sometimes, things sound smushed together until you've trained your ear to separate the words. This is normal. But if you've worked on repeating with the native speaker and started using specific phrases, you'll be better equipped to pick out the words you know.
Plus, as a baby, you did this once when learning your first language. So trust that your brain was designed to learn by extracting and pulling out the words you know and also hearing and questioning the words you don't know.
You should celebrate both hearing the words you know and the words you don't know. Because being able to hear a word you don't know is also a triumph because you could distinguish it!
I'd love for you to give your family more opportunities to listen to native speakers and immerse yourself in the language as you're laying a strong foundation with the phrases you are working on.
You can begin with…
TV shows with audio and subtitles turned on in your foreign language (10:00)
Music (12:21)

The Box 2 Music Fun Sheet is one activity you can do with your family to incorporate listening and songs

Podcasts that are spoken in a foreign language! (15:00)
How to style Youtube videos from native speakers (18:40)
Audiobooks for kids and adults! (23:40)
(only if applicable to your family) Bible/religious content in apps where you can change the language! (26:30)
This week, immerse your family in the listening stage by giving one of these ideas a try! Let us know what you've listened to in the private FB Group for TalkBox.Mom families and how it ties in with your box! Can't wait to see your post!
Watch This Week's Facebook Live Training
Next Week's FB Live
Mark your calendar because FB Lives for TalkBox.Mom customers are on Thursdays at 3 pm CT.
Hotshot Winner
Every week in the private TalkBox.Mom FB Group, we use our random number generator to find a #hotshot post to win one of mine and Kaeti's favorite things.
To enter, post what you did in the TalkBox.Mom program with the hashtag #hotshot. Your post can be text, an image, a video, or a combo of any of those. You can post once per day to make a new entry for each day of the week.
Congratulations to:
Brandi, We are sending you these super cute white wicker placemats! 🎉
Hotshot Shout-Outs!
We've had some great posts in the TalkBox.Mom Hotshot Group. Here are 3 members I want to celebrate with you:
Hayley, this looked like it was a fun outing to the store and Bäckerei! You're totally a hotshot using your German out and about!
Brigit, this is such an amazing win for your daughter this week 🎉
Elizabeth, this looks like a fun activity with your daughter, she looks very interested in the pamplemousse! It's really wonderful that you and your daughter get to learn a language together.
Thank you so much for letting us help your family use a foreign language every single day!!
xo,
Adelaide
Founder of TalkBox.Mom