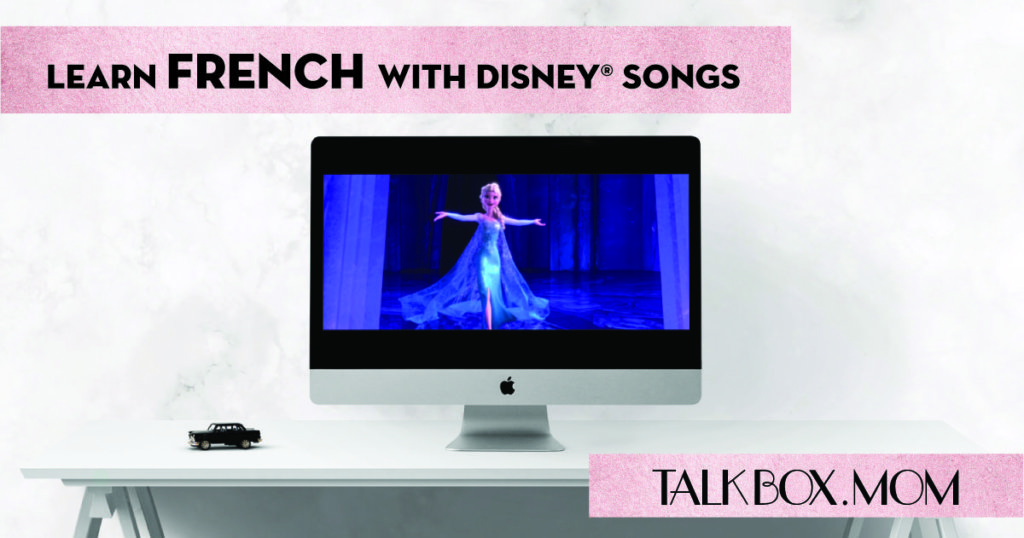 Learn how to sing "Let It Go!" in French! Remember that the song is not the same as the English version. The French below is the lyrics to the song in the video. The English is to help you understand the French. The English is not meant to be sung. But the French totally is!
EASY HOW TO
Step 1. Read the French lyrics while looking at the English to understand what it is saying.
Step 2. Listen to the French song while reading along.
Step 3. Read the French again while looking at the English. Sort out anything you aren't positive you know what it means.
Step 4. Practice signing the song until it just becomes so easy.
If the video is missing or there is a problem, please leave a comment, and we will fix it asap.
L'hiver s'installe doucement dans la nuit.
La neige est reine à son tour.
Un royaume de solitude.
Ma place est là pour toujours.
Le vent qui hurle en moi : « Ne pense plus à demain ! »
Il est bien trop fort.
J'ai lutté, en vain.
The winter settles gently in the night.
The snow is queen in turn.
A kingdom of solitude.
My place is there forever.
The wind that screams in me: "Do not think about tomorrow! "
He's far too loud.
I struggled, in vain.
Cache tes pouvoirs, n'en parle pas.
Fais attention, le secret survivra.
Pas d'états d'âme, pas de tourments De sentiments.
Hide your powers, don't speak of them.
Pay attention, the secret will survive.
No hesitation, no torments of sentiments.
Libérée, délivrée
Je ne mentirai plus jamais
Libérée, délivrée
C'est décidé, je m'en vais
J'ai laissé mon enfance en été.
Perdue dans l'hiver
Le froid est pour moi, le prix de la liberté.
Let It Go
I will never lie again.
Let It Go
It's decided, I'm going.
I'm leaving I've left my childhood back in the summer.
Lost in the winter.
The cold is for me, the price of liberty.
Quand on prend de la hauteur.
Tout semble insignifiant.
La tristesse, l'angoisse et la peur.
M'ont quittées depuis longtemps.
When you take the height.
Everything seems insignificant.
Sadness, anguish and fear.
Have left me for a long time.
Je veux voir ce que je peux faire.
De cette magie pleine de mystères.
Le bien, le mal je dis tant pis Tant pis !
I want to see what.
I can do with this mysterious magic.
The good, the bad, I say 'oh well' Oh well!
Libérée, délivrée
Les étoiles me tendent les bras
Libérée, délivrée
Non, je ne pleure pas.
Me voilà ! Oui, je suis là !
Perdue dans l'hiver.
Let It Go
The stars stretch out my arms.
Let It Go
No, I do not cry.
Here I am ! Yes, I am here !
Lost in winter
Mon pouvoir vient du ciel et envahit l'espace.
Mon âme s'exprime en dessinant et sculptant dans la glace,
et mes pensées sont des fleurs de cristal gelées.
My power came from the heavens and invades the space.
My soul expresses itself by drawing and sculpting in the ice,
and my thoughts are flowers of the frozen crystals
Je ne reviendrai pas Le passé est passé !
I'm never going back The past is in the past!
Libérée, délivrée
Désormais plus rien ne m'arrête
Libérée, délivrée
Plus de princesse parfaite
Je suis là ! Comme je l'ai rêvé !
Perdue dans l'hiver
Let It Go
Now nothing stops me
Let It Go
More Perfect Princess
I'm here ! How I dreamed!
Lost in winter.
Le froid est pour moi le prix de la liberté.
The cold is for me, the price of liberty.