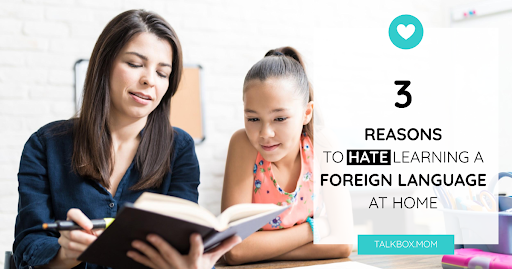 I get it! You spent 2 painful years in high school trying to get through your Spanish or German class. The study sessions with friends after school might have been more about catching up on the latest TV show and less about speaking in a foreign language.
Now it's your turn to be the foreign language teacher for your own children, and you're just not ready to cross that bridge yet. The first time around wasn't the best, and you can barely remember how to say, "Hello, my name is…" How will it be different this time around?
Here are the Top 3 Reasons you and your children will hate learning a foreign language at home and what to do instead.
Focusing on perfection over progress. There's no bigger mood killer than being corrected all the time. Just like when your French teacher would correct every single word you said in French. All you could think is, "I'm wrong yet again!" That constant correction didn't inspire you to keep trying. It actually takes your brain a couple of weeks to a couple of months to start hearing the new sounds! So don't get discouraged because you can't get the phrase down perfectly from day one. Instead, you just want to listen to a lot of French and talk as much as possible without constantly judging yourself. Have fun!
Overwhelming your schedule with too much, too fast. I can get super excited when I get brand new homeschooling materials. I want to do all. the. things. I add activity after activity to the schedule. Soon enough, I get overwhelmed by all of the information and options that the curriculum offers.
Being inconsistent. (AKA allowing yourself to forget what you've already learned) To be consistent with a foreign language, you should work it into your day. This means picking phrases to use in a foreign language that you're already saying, like, "Leave your sister alone while she is trying to concentrate." This way, you KNOW you'll use the language you're learning.
How can you easily do this? The Homeschool Phrases is a new guide from TalkBox.Mom that has phrases you say every day with your family while doing school.
Like…
"Grab a sheet of paper."
"I left my coffee in the microwave again!"
"This is difficult, but you are capable of doing difficult things."
"You could be done right now if you had started when I asked you to."
"I don't want to practice the piano." 😉

It's great for homeschool families and any parent that helps their child with schoolwork.
With this language guide, you will start talking from day one! Really using the language!
And you won't be looking for perfection. You will practice with the native speaker audio (there's audio for every single phrase) and celebrate with your kids that you're actually speaking a foreign language!
You also won't be overwhelmed because you'll only commit to starting with two phrases: one for you and one for your kids.
And you will be consistent because you'll choose phrases you say all the time, like, "I need my coffee first!"
Once you get past learning the first few phrases, it will be easy to pick up more phrases!
What's even better? The Homeschool Phrases dropped in the shop for an introductory price of $19.95!
Grab your copy before it doubles or triples in price!
If you're ready to LOVE learning a foreign language with your family by focusing on progress and not perfection, go at a pace that is right for your family, and use phrases you actually say, then grab your copy of The Homeschool Phrases.
xo,
Adelaide

P.S. If you want to try out the language guide before you buy it, you can get a two page preview here!